Director: Chris Weitz, Paul Weitz
Composer: Damon Gough (Badly Drawn Boy)
Score Produced by:
Steve McLaughlin for gohlmclaughlin
Songs produced by: Tom Rothrock and Damon Gough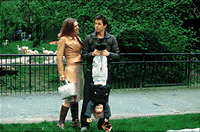 Based on Nick Hornby's popular British novel, About a Boy is a comedy-drama starring Hugh Grant as Will, a rich, child-free irresponsible Londoner who invents an imaginary son and attends single parent meetings in order to meet women.
He befriends Marcus, an odd 12-year old boy, With Will teaching him to be a cool kid and Marcus helping Will to finally grow up?
About the soundtrack:
What was the working process for the 'About A Boy' soundtrack?
Damon: "The first thing to do is to get help. When I was offered the soundtrack I had this flippant attitude that it was going to be a piece of cake. It was much more difficult. I started to base the songs on the book, the imagery and the characters. When I got to watch the film there were a couple of other inspirational moments such as when the boy was reading his mother's suicide note.
"Trying to make the songs fit the film was a lot harder than I expected it to be. When you've got a fixed piece of film to work to it's much harder. With a lot of films people licence music in and find a piece that works. When you're writing it for real it's much more difficult.
"It was harder than I thought but I had a producer called Steve McLaughlin who helped me through that. He'd scored many films and helped me adapt my music to the film. He made it a lot easier."
Are you happy with the album?
Damon: "About A Boy as an album was like a bonus. I know for a fact that most of those songs wouldn't have been written if I hadn't been asked to do the film. I was happy that it was received so well too as I was expecting more criticism."
From an interview on the BBC Website