Director: Robert Altman
Composer: David A. Stewart
Score Produced by:
Steve McLaughlin for gohlmclaughlin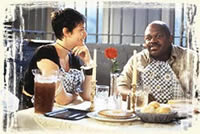 In Holly Springs, Mississippi, where the air is thick with the blues and sin, Cookie (Patricia Neal) enjoys a feisty comradeship with handyman Willis (Charles S. Dutton), noted for a weakness for bourbon.
Cookie's dramatic and messy demise is the catalyst for recriminations and revelations from her nieces - Camille (Glenn Close) and Cora (Julianne Moore) the local cop and city slicker prosecutor, Cookie's wild child great-niece and randy moronic deputy.
About the soundtrack:
This was Steve and Teese's sixth collaboration with Eurythmic Dave Stewart on music for film. The soundtrack album was developed from Dave's austere and simple score, and features contributions from Bono and The Edge from U2.
Soundtrack reviews:
"...the film boasts a nifty R&B soundscape devised by former Eurythmics man David Stewart" Amazon.com
"OK, so we shouldn't be surprised by anything Dave Stewart does, but this is nevertheless a very pleasant surprise. Opening like a crackly old blues record, a electronic drum rhythm and some stunning Candy Dulfer saxophone turns the five-and-a-half minute opening track Cookie into one of the best songs Pink Floyd never wrote. Elsewhere the music is less easy to nail down, but hip, funky and irresistible nonetheless" Empire Magazine