Director: Joel Schmuacher
Composer: Bruce Roberts
Score Produced by: Steve McLaughlin and Teese Gohl for gohlmclaughlin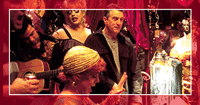 Walt Koontz (Robert de Niro) is a retired security guard, ultraconservative and proud of it, living in New York City's Lower East Side who suffers a stroke which leaves him with partial paralysis. Refusing to leave his apartment for therapy, Walt very reluctantly agrees to a rehabilitative program that includes singing lessons with a performer who lives upstairs - a street-tough drag queen named Rusty (Philip Seymour Hoffman).
About the soundtrack:
Composer Bruce Roberts is probably best known as a songwriter - among many others, he wrote "Enough Is Enough" for Barbra Streisand and Donna Summer. This was Bruce's first score.
Reviews:
Joel Schumacher's "Flawless'' is more fable than slice of life, and all these people and props give Robert De Niro and Philip Seymour Hoffman their opening to create two screwy characters from opposite ends of the great personality divide. The only reason you can't say they deserve each other is that nobody deserves Walt Koontz ... Roger Ebert