Director: Julia Taymor
Composer: Elliot Goldenthal
Score Produced by:
Teese Gohl for gohlmclaughlin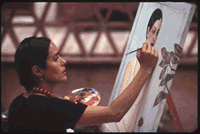 A profile of the controversial Mexican artist, Frida Kahlo starring Salma Hayek. The film chronicles the life Kahlo shared openly and unflinchingly with Diego Rivera, as this young couple took the art world by storm.
About the soundtrack:
WINNER:
2003 Oscar for Best Score (Music)

2003 Golden Globe for Best Original Score
(Motion picture)
Soundtrack reviews:
".Frida, as is the case with all of Goldenthal's music, is wonderful. The music is mixed wonderfully, giving it astonishing clarity.
" ...you'll find another classic score that is also fully worthy of the Oscar nomination it received. Sublime themes, brilliant writing, and perfect performances produce another winner in the Goldenthal canon that should not be missed by any film score fan." cinemusic.net