Director: Adam Brooks
Composer: Nick Laird Clowes
Score Produced by:
Steve McLaughlin for gohlmclaughlin and Nick Laird Clowes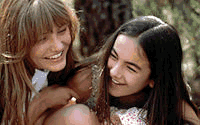 Phoebe (Jordana Brewster), a strong-willed teenager sets out on a journey of self-discovery as she attempts to unravel the mystery surrounding the death of her beloved older sister, Faith (Cameron Diaz).
Phoebe traces the steps of Faith and her boyfriend Wolf (Christopher Eccleston) through a politically-charged Europe, and in the process is forced to confront the past, as well as disturbing truths about her own future.
About the soundtrack:
Nick Laird Clowes is the talent behind "Trashmonk", who released the highly rated and distinctive sounding album "Mona Lisa Overdrive" on Creation Records in 1999. As some of the tracks from the album were licensed for the soundtrack, the film makers decided to invite Nick to complete the score, his first foray into the world of working to picture. We were privileged to be able to help Nick bring his distinctive soundscapes to the screen.
Soundtrack reviews:
"This evocative score is a deceptively seamless fusion of his distinctive pop sensibility and a moody, mature orchestral sense that belies the musician's one-hit-wonder, Top 40 heritage. His spare use of the acoustic guitar throughout is especially effective. The score also incorporates several tracks by Laird-Clowes's modern pop project, Trashmonk, as well as some atmospheric work by longtime critics' darlings Yo La Tengo and the brooding, atmospheric modern jazz-tinged work of Woodrow Wilson Jackson III and Petra Haden (daughter of jazz great Charlie Haden)" Jerry McCulley