Director: Brad Bird
Composer: Michael Kamen
Score Produced by:
Steve McLaughlin and Teese Gohl for gohlmclaughlin with Michael Kamen and Christopher Brooks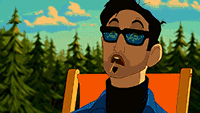 Set amid the Cold War paranoia of late Fifties America, The Iron Giant is an enchanting tale of a young boy who finds friendship with a enormous robot with an insatiable appetite for metal and a childlike curiosity about the world. Featuring the voices of Jennifer Aniston, Harry Connick Jnr, Christopher McDonald and Vin Diesel.
About the soundtrack:
Michael Kamen's heartfelt score for "The Iron Giant" helped it sweep the board at the "Annie" awards, (the animated film industry's Oscars.)
The film won "Outstanding Achievement in an Animated Theatrical Feature" and several individual awards, notably Best Music, and Best Director.
The score was recorded in a strictly classical style in the Rudolfinum Concert Hall in Prague, with the Czech Philharmonic Orchestra.
Soundtrack reviews:
"Blasting Kamen back onto the front page scoring scene, The Iron Giant is a mammoth orchestral score. If sheer power and volume could define a great score, then this would be among the best.
"Kamen employs a variety of percussive elements as representation of the giant, beginning with the sharp banging of wood blocks and including the klanging of metallic counterparts" filmtracks.com