Director: Peter Howitt
Composer: Edward Shearmur
Score Produced by:
Steve McLaughlin for gohlmclaughlin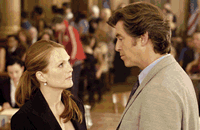 The story of two New York divorce attorneys (Julianne Moore and Pierce Brosnan) who are often competing against each other, but end up in a relationship nonetheless. When they get married, can they avoid the same issues at home that lead people to provide them business at work? One of the central cases in the story is the heavily-publicized divorce of a rock star from his wife.
Soundtrack reviews:
"Edward Shearmur has provided a full, bouncy, Irish-influenced score for Pierce Brosnan and Julianne Moore's latest flick...a pleasant score, and it actually has a soundtrack release.
"Shearmur has written some incredible music in the past few years, especially the militaristic Reign of Fire and the adventurous Count of Monte Cristo. Laws of Attraction ... is a good effort and compliments the film well.
"Laws of Attraction is a good romantic comedy score and showcases Shearmur's versatility well." soundtrack.net